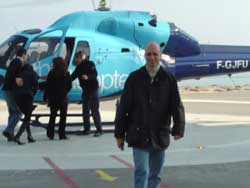 International Business Centre was born in 1996, after a deep analysis of the Spanish real-estate sector. From its creation, I.B.C. bet hard on the service sector, with clear and firm norms:

Quality of Service


Last generation Technology


Corporative Image


Differentiation


Profitability
All this, together with just one fundamental goal: attending the needs of each and every client.
This managing policy allowed us to create a new business concept, followed by a high profitability.
How is an IBC business centre like?
It is made of many offices and board rooms, fully equipped and magnificently decorated, in order to take care of the image of our clients, giving them all the support and advantage they want: preparing an advertising campaign, booking a flight, doing the books, or also providing last generation technology products, so that each one of our clients can obtain the best results, without worrying about everyday tasks and, in this way, making his time profitable.
What advantages does it offer to the client?

It eliminates investments


It reduces fixed expenses


It saves time


Image


Total flexibility and support


Agility and experience in internal works
In short, the XXI Century Office.
The Sector
The Business Centre sector is experiencing its boom, this ensuring an increasing and continuous demand during the next few years.
International Business Centre is the 1st Business Centre franchise in Spain and our goal for the next 5 years is to create a network throughout all the "Península" and Isles. This goal will situate us, in 2010, in a leading position on national scale.


Economic Conditions

Minimal entry canon: 18.000 Euros


Managing Royalty: 5%


Advertising Royalty: 2.5%


Contract duration: 5 years


Minimal Investment: 120.000 euros


Aprox. Profitability: 30%-40%

Franchising requirements:
The franchising system is one of the best expanding systems existing nowadays. Nevertheless, it encloses risks or restrictions. The first step to create a franchise is to have a good business with demonstrated success. The second step is to check that this business is apt to be franchised. Then, central office should be created, in order to give a continuous support. However, the most important thing about franchise is the franchisees. They must be dynamic, working, responsible people, prepared to lead a team and, most important, in love with the business they are going to create. Of course, also they must have an economical support in order to face the first years' investments.
Franchisee's Advantages

Owner of a successful business


Few risks


More ease of financing


Better buying prices and guarantee of supply


Advertising and Marketing on national scale


Area Exclusivity


Support and Know How


Research and development of the business, through the central office

In short:
Belong to a great organization while being its chief .
Please, fill in the following form if you need more information