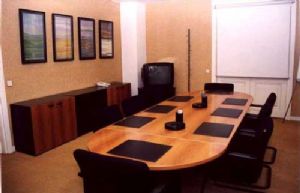 We have got board rooms of many sizes, with possibility of different configurations:
• Auditorium
• Cocktail
• "U" Table
• Conferences
• Meeting Room


The word that best defines our board room service is FLEXIBILITY. We have got meeting rooms equipped with tv, video, dvd, pc, slide projector, screen for presentations, blackboard, IP and RDSI videoconference, catering service, etc. If you need anything we don't have, don't' worry, we will get it.

You can use these board rooms from one hour to all the time you need: 24 hours, all the 365 days of the year.